We are accepting applications and continue to enroll for our 100% online programs.
Earn Your Psychology Degree, 100% Online.
Join a University Dedicated to Student Success
Career Advantages of a Florida Tech Online Degree
Access to Florida Tech's Career Management Services as a student and grad
Flexible scheduling allows you to study without putting your career on hold

Study anywhere with interactive course materials accessible on your computer or mobil

e devi

ce

Highly accessible faculty respond quickly to your questions, needs and concerns
Classes are eight weeks long, with six starts per year
Alumni include NASA scientists, Fortune 500 CEOs and top military generals
Florida Tech started in 1958 to support the spirit of exploration and discovery that fueled the development of the Space Coast. As part of this legacy of innovation, Florida Tech has become a leader in education online, offering media-rich, rigorous psychology degrees among its many program offerings.
By completing this form and clicking the button below, I consent to receiving calls, text messages and/or emails from BISK and its representatives regarding educational services and programs. I understand calls and texts may be directed to the number I provide using automatic dialing technology. I understand that this consent is not required to purchase goods or services.
Payment and Financial Aid Options
Tuition assistance and payment plans as well as financial aid may be available for those who qualify.
The study of the mind and human behavior is at the core of a number of professional fields, such as child advocacy, forensics, mental health, social work, substance abuse and organizational leadership. An education in psychology can help provide a path to a variety of careers, from mental health technician to case manager to childcare worker. Florida Tech offers a variety of psychology programs online to provide working adults with the ability to further their education.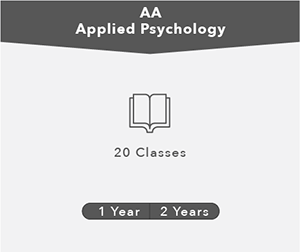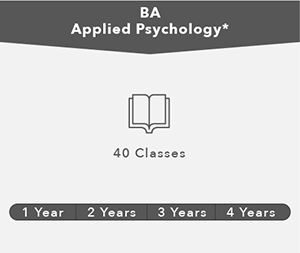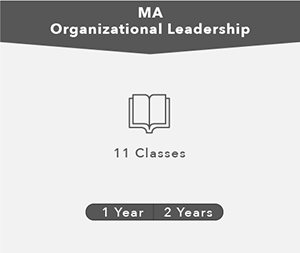 Completion times are based on full time student status and no break in enrollment.
*BA Applied Psychology concentrations include: Forensic Psychology, Child Advocacy, Clinical Psychology and Organizational Psychology
Courses administered online at Florida Tech have the same rigorous learning objectives as our campus-based curriculum. Our faculty collaborates with instructional program experts to ensure each course features an interactive and compelling experience for our students. Here's what you can expect:

Career Management Services


Collaboration with Classmates

"Whether you're freshly new to college or have been out of the game for a while, Florida Tech makes every student feel they are worth it."
Pipsmy Phimmachack

BA Applied Psychology
"Florida Tech is a very reputable school with employers. You show up to an interview with an FIT degree, you're already a step ahead."

Ed H.
BA Applied Psychology
"I definitely learned as much as I did in a brick-and-mortar program. I loved the flexibility that the program offered me. It was highly interactive - I engaged a lot with my peers throughout the two years."
Sandy Geller,
MA Organizational Leadership
Take the next step toward boosting your career with our free program guide:
Program and curriculum descriptions


Tuition, military rates and financial aid details

What to expect in a virtual classroom

Florida Tech's mission
Questions? Call 855-300-1469